Mish Moved to MishTalk.Com Click to Visit.
Warning bells rang three times while I was on vacation last week. Did you hear them? If not, here they are. Sounding the alarm were Trex (TWP), ElkCorp (ELK), and A.O. Smith (AOS), three suppliers to the homebuilder industry. All three warned last week. Let's take a look at each.

Following is the business profile for Trex:

Trex Company, Inc. engages in the manufacture and distribution of wood/plastic composite products primarily for residential and commercial decking and railing applications. It manufactures Trex Wood-Polymer lumber through a process that combines waste wood fibers and reclaimed polyethylene. The company provides three deckling lines, including Trex Origins, which features a smooth surface; Trex Accents that features a smooth surface on one side and an embossed wood grain on the other; and Trex Brasilia, which replicates the look of tropical hardwoods with color variations. Trex Company serves consumers, home builders, and contractors in the United States and Canada.

Trex Warns of 2Q Loss, Slashes 2005 View

Wednesday June 22, 6:23 pm ET
Trex Shares Plunge As Company Sees Second-Quarter Loss, Slashes 2005 Forecast

Trex Co. shares plunged in aftermarket activity Wednesday after the maker of composite decking said it expects to post a loss in the second quarter and cut its profit outlook for the full year.

The company blamed the earnings shortfall on higher-than-expected levels of retail inventory and adverse weather conditions. Trex also said sluggish expansion of its new distribution program with Home Depot Inc. caused sales to be less than expected.

Trex forecast a second-quarter loss of 20 cents to 25 cents a share on sales of $75 million to $80 million. On average, analysts surveyed by Thomson Financial expect earnings of 90 cents per share on revenue of $100.9 million. In the year-ago period, the company earned 75 cents per share on revenue of $83.4 million.

For 2005, Trex slashed its per-share profit outlook to 50 cents to 60 cents from its previous forecast of $2.16 to $2.23, issued in April. The company reduced its sales forecast to between $270 million and $280 million, from $300 million to $310 million. Wall Street projects earnings of $2.18 per share on revenue of $305.8 million.

"We are taking a number of measures to curtail unneeded manufacturing capacity and to reduce expenses," said Chairman and Chief Executive Robert Matheny in a statement.

Blaming poor sales on "adverse weather"? You've got to be kidding. Is that the same adverse weather that has home sales at record highs? Looks like to me someone was way overly optimistic about sales or perhaps this is a harbinger of new home sale plunges that will soon be forthcoming.

Here is a chart of TWP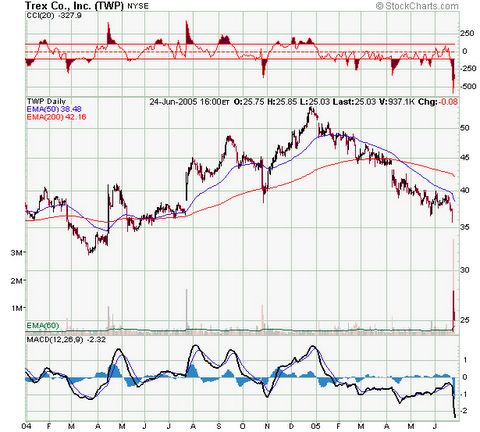 Let's now turn out attention to ElkCorp:

ElkCorp, through its subsidiaries, primarily provides building products, including premium roofing products, performance nonwoven fabrics, and composite building products in the United States. Roofing products include laminated fiberglass asphalt shingles and accessory roofing products for steep slope applications. The roofing product line includes Prestique Gallery Collection, Prestique Plus High Definition, Prestique I High Definition, Prestique High Definition, Prestique Raised Profile, Capstone, Domain Winslow, and Prestique Grande High Definition. The company also offers starter-strip products, Seal-a-Ridge, Z Ridge, RidgeCrest, Elk Highpoint hip and ridge products, a built-in stainguard treatment, roof accessory paint, and other accessories. These products are sold by sales personnel primarily to roofing wholesale distributors in the United States.

ElkCorp. slashes forecast
Wednesday June 22, 4:01 pm ET

ElkCorp. on Wednesday lowered its fourth-quarter earnings forecast, citing challenges in the composite lumber business, higher than expected costs and lower than expected shingles volumes.

The Dallas-based maker of roofing and building materials expects earnings per share from continuing operations to be 31 cents to 33 cents. Full-year earnings from continuing operations were dropped about 37 cents to a range of $2.09 to $2.11 a share from the previous forecast of $2.46 to $2.49 a share.

Hmmmm....Lower than expected shingles volumes. New home sales at record levels but we have lower than expected shingle sales. Once again this begs the question: Was ELK absurdly optimistic above and beyond record home sales or is this a harbinger of new home sale plunges that will soon be forthcoming?

Here is a chart of ELK.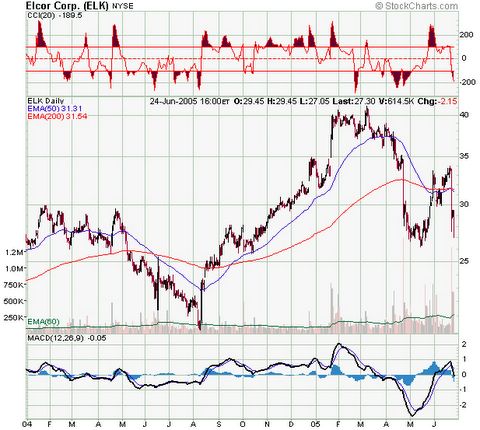 Finally let's take a look at A. O. Smith Corporation, a company that makes residential water heaters, refrigeration compressors, and motors used in air conditioning equipment. Following is a summary of their business:

A. O. Smith Corporation manufactures electric motors and water heating equipment for residential, commercial, and industrial end markets principally in the United States. It operates in two segments, Electrical Products and Water Systems. Electrical Products segment manufactures and markets a line of hermetic motors, fractional horsepower alternating current (AC) and direct current (DC) motors, and integral horsepower motors. Water Systems segment manufactures and markets residential gas and electric water heaters, standard and specialty commercial water heating equipment, copper-tube boilers, and water systems tanks. A. O. Smith Corporation's motors are used in a range of targeted residential, commercial, and industrial applications, including hermetic motors that are sold worldwide to manufacturers of air conditioning and commercial refrigeration compressors; fractional horsepower fan motors used in furnaces, air conditioners, and blowers; fractional horsepower motors for pumps for home water systems, swimming pools, hot tubs, and spas; fractional horsepower motors used in other consumer products; and integral horsepower AC and DC motors for industrial and commercial applications.

A.O. Smith cuts 2005 earnings forecast
Fri Jun 24, 2005 08:05 AM ET
A.O. Smith Corp. on Friday cut its 2005 earnings forecast, citing weakness in the water-heater market. The company, which also makes motors, said that industry shipments for water heaters were down 14 percent in the residential market and 25 percent in the commercial market in April and May, compared with a year earlier company forecast 2005 profit of $1.25 to $1.45 share, down from its previous forecast of $1.45 to $1.65

Once again I have to ask the same question: Was AOS overly optimistic about water heater sales or is there a serious housing slowdown looming? Do they or do they not put water heaters and air conditioners in new homes? At least AOS is not blaming the weather.

Here is a chart of AOS




Summary

Water heater and AC motor sales manufacturer warns
Deck materials manufacturer warns
Roofing manufacturer warns
I think it could be possible to ignore one bell as an outlier, but three bells from three different component suppliers is another thing.
If that is not enough evidence for you then please consider this taunt by Larry Kudlow
"The Housing Bears Are Wrong Again"
Kudlow made one of the worst calls in history when he told investors to buy tech stocks in March 2000. Can his beat taunt time the exact top of the Real Estate market too? That would indeed be an impressive record. Then again Kudlow will be likely be bullish from now till doomsday so perhaps we need to look further.
Mish, Is there any other evidence?
It just so happens there is. Let's take a look at the latest housing numbers in Massachusetts. According to the Boston Herald
Massachusetts home sales plunge 11.1 percent
.
"About 4,142 single-family homes sold last month, down 11.1 percent compared to the same period last year. It was the second straight month in which the number of year-over-year home sales declined in the Bay State, the Massachusetts Association of Realtors reported.
The decline was the sharpest since August 2002, when sales drooped 14.1 percent in year-to-year comparisons.
Prices of both homes and condominiums continued to rise last month - by 6.2 percent for single-family dwellings and 4.7 percent for condos. The average price for a home was $359,900 in Massachusetts, while condos were going for a red-hot average of $279,900, an all-time record."
Note the pattern that often ends housing bull markets. Rising prices on falling volume, as fewer and fewer people have the assets or conviction to carry the market higher. Indeed the supply of Massachusetts homes has increased to 36,259 which is about 8.8 months at the current sales pace. If history plays out, this figure is going to soar, prices are going to drop or both. One shoe dropped in Las Vegas last fall with Pulte slashing prices, Massachusetts is likely the second shoe, and we have three additional warning bells from building suppliers that all is not as rosy as it seems.
Housing and the economy are both headed for a serious tumble as a nasty deflationary recession is headed our way. Book it.
Mike Shedlock
Mish
http://globaleconomicanalysis.blogspot.com/